Whether you ride dirt roads, trails, gravel or a mix of everything, you want a bike that floats right through it, keeps you in control, and is comfortable for long days in the saddle. The Revolt delivers on all accounts. It features a lightweight ALUXX aluminum frame and composite fork, each engineered to balance stiffness and compliance. It comes with integrated components including the D-Fuse composite seatpost and Contact XR D-Fuse handlebar to further absorb road shocks and vibrations. The frame is integrated for disc brakes and it has clearance for larger tires up to 45mm.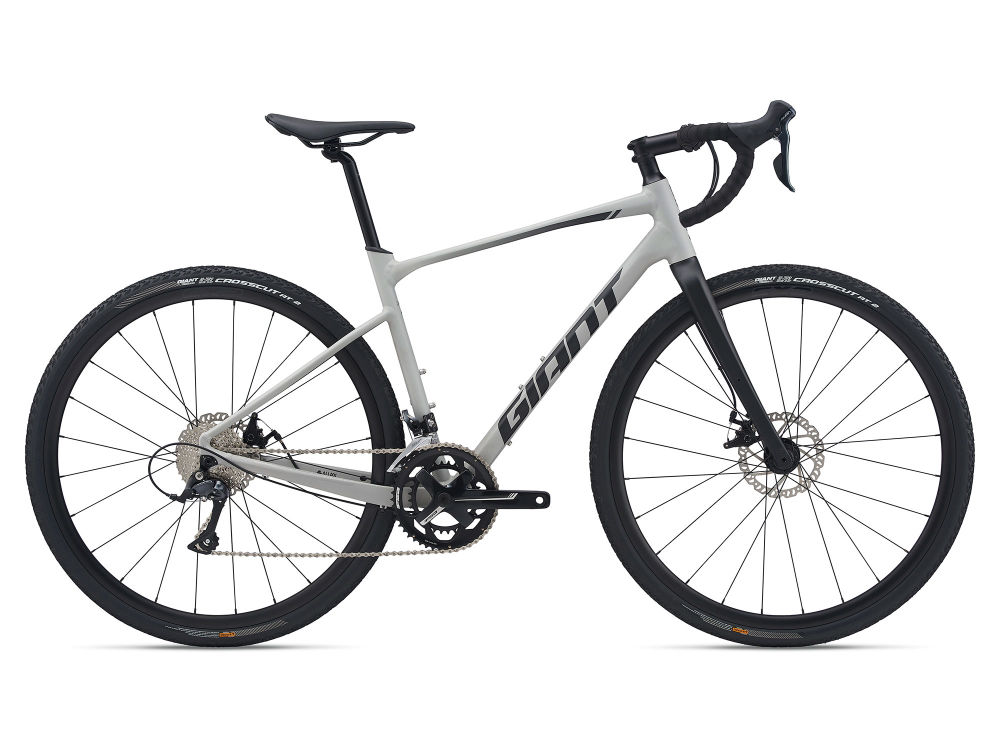 The Giant Revolt Advanced Is the Only Gravel Bike You Need
It's made to go fast, or go long, or to carry a ton of gear, or just to help you get lost.
Takeaway A great value, the Revolt models are fast, comfortable gravel bikes—with excellent parts—that you'll want to ride anywhere.
• There are six bikes in the Revolt line, and prices start at $1,000
• The carbon frame is stiff, but comfortable on rough roads
• The bike is stable at high speeds, and cooperative at lower ones
Price: $5,500
Weight: 18 LB (M)
---
Of all the fast gravel bikes we've tested, this may be the easiest to slide into. There's the price, to start. Giant delivers a ton of value across the six-bike Revolt line, which starts at $1,000 for a version with an aluminum frame and climbs up to this one, which comes with better parts than almost any bike at this price (hey there, carbon wheels and wireless shifting). The ride is incredibly accessible, too. It's fast and stable when you sink low into the drops and hammer, yet cooperative when you're cruising on rail trails and broken-up dirt roads.
---
Courtesy Revolt Advanced Pro Force giant $5,500.00 SHOP NOW
Stiff, fast, carbon frame
Great SRAM eTAP Force AXS parts
Smooth ride
Advertisement – Continue Reading Below
---
Born From 'Cross
Giant began working on the Revolt in 2017, when some of its staff and team riders, like Carl Decker, grew tired of using the brand's TCX cyclocross bike for gravel rides in the hills around the company's U.S. headquarters in Southern California. But that race bike's handling infused the new design—quick, stiff, and energetic were must-haves.
Still, gravel rides—even gravel races—are not 'cross races. Giant engineers stretched the frame, slackened the angles a bit, lowered the bottom bracket a ton, increased wheel clearances, and made a few more tweaks to make the bike more stable when bombing down or across rough roads at high speeds. The finished product has frame angles and a disposition that's similar to some of our favorite fast gravel bikes, like the Salsa Warbird and Moots Routt RSL.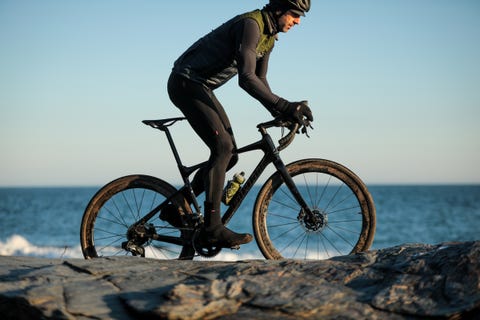 Meg McMahon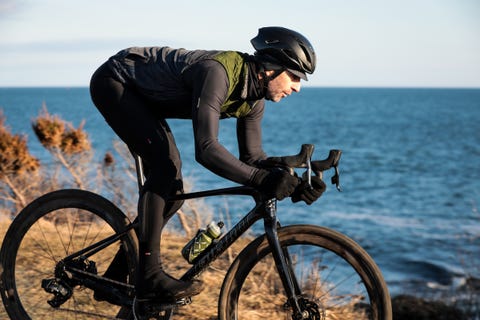 Meg McMahon
This bike has subtle differences, though, that make it better suited for slower-speed riding than those bikes, and more versatile, too. Unlike those brands, which produce several bikes for riding on gravel, Giant has only one: the Revolt. "It has the capabilities to take one of our athletes and podium at Kanza," says Giant's global marketing manager Andrew Juskaitis. "But it's also for someone who is not a pro and maybe wants to explore back roads." Advertisement – Continue Reading Below https://a2a54ed868e69d738ba3b92c5bc17b80.safeframe.googlesyndication.com/safeframe/1-0-38/html/container.html
Giant Revolt Advanced Pro Force Details
Frame Carbon fiber
Fork Carbon with carbon steerer, 12mm thru-axle
Shifter SRAM Force eTap AXS
Front Derailleur SRAM Force eTap AXS
Rear Derailleur SRAM Force eTap AXS
Brakes SRAM Force eTap AXS
Cassette SRAM Force 12-speed 10-33
Crankset SRAM Force D1 Dub, 33/46
Bottom Bracket SRAM Dub pressfit
Stem Giant Contact SL, 8-degree
Handlebar Giant Contact SLR D-Fuse, 31.8
Seatpost Giant D-Fuse SL, carbon fiber
Saddle Giant Contact SL
Wheels Giant SLR-1 Composite, 42mm
Tires Maxxis Velocita 700x40mm
To balance the go-fast feel with a bit of slow-ride flow, Giant gave the bike a slightly slacker head-tube angle (70.5 on a medium), a little more stack, and a slightly higher bottom bracket than some of the fastest gravel bikes. There's also a ton of trail—74mm on the smaller sizes and 70 on the larger. Many other bikes in this category have much less (Trek's Checkpoint has just 64mm). More trail increases stability, but can make the bike feel less maneuverable, especially at lower speeds. More Crown Vic than go-kart.
Fast and Smooth
But this is no touring bike, or even one made for bikepacking expeditions. Giant has more experience building carbon-fiber frames than anyone else on the planet, and engineers made this one stiff and light. For comparison, a comparable Trek Checkpoint SL 7 weighs about a pound more. The Revolt accelerates quickly, and once you get it up to speed, it feels effortlessly efficient. Advertisement – https://a2a54ed868e69d738ba3b92c5bc17b80.safeframe.googlesyndication.com/safeframe/1-0-38/html/container.html
Whether your hands are in the drops or on the bar, the Revolt puts you in a moderately aggressive position. You don't need crazy amounts of flexibility or an elastomer-damped spinal column to enjoy this ride. For most riders, it's a position that's aggressive enough to keep your wheels in check as you rip down a gravel descent, but won't leave you begging Floyd's of Leadville for a CBD sponsorship after every long ride. See 16 More Images Tuning the Revolt for fast test rides. Meg McMahon
Some of the comfort comes from Giant's D-Fuse carbon seatpost, which Juskaitis says flexes up to 12mm. The Revolt has a sloping top tube and short seat tube. For most riders, that means there's more seatpost exposed than there would be on a bike with a more traditional top tube, making the post shimmy a little easier. You don't feel it move much as you ride, just a level of comfort that's a degree or two more than on some similar bikes.
The Revolt we tested comes with 40mm Maxxis Velocita tires, which are best on hard dirt and packed gravel, and feel better on the road than knobbier options. If you want something bigger, you can squeeze a 700c x 45mm tire in there. It's also compatible with 650 wheels with tires up to 47mm wide.
You can now buy a gravel bike for long races, and one for short races, one for touring or for singletrack. The Revolt is one of the few that remains open to it all and ready for almost any adventure. It's fast, light, comfortable enough, and easy to ride. This commenting section is created and maintained by a third party, and imported onto this page. You may be able to find more information on their web site. This content is created and maintained by a third party, and imported onto this page to help users provide their email addresses. You may be able to find more information about this and similar content at piano.io More From Bike Reviews The Best Used Bikes On Sale Right Now
2020 Giant Revolt 2 gravel bike review: The $1,000 workhorse
The Giant Revolt 2 is not fancy. It doesn't take many chances, either in geometry or spec. It's a workhorse. It is not designed to be the best bike it can possibly be; it is designed to be the best bike it can be at a very specific, and very low, price.
Can you get a good gravel bike for $1,000? This is Giant's answer.
---
The workhorse
A simple bike does not have to be a bad bike. In fact, the opposite is often true. This is the takeaway from our time with the Revolt 2 – it doesn't try to be something it's not, and it succeeds in being exactly what many riders need.
Story Highlights

What it is: A predictable, reliable aluminum gravel bike.
Features: Tapered head tube, hybrid hydraulic brake system, wide gear range and aluminum frame.
Weight: 10.01 kg (22.07 lb), with control Continental Terra Speed tires, without pedals.
Price: US$1,000 / £1,049 / €1,099 / AU$1,499
Size tested: Medium (approx 54 cm)
Highs: Lots of bike for the money, clever brakes, stable handling, tubeless tyre setup.
Lows: Heavy.
The Revolt is built around an aluminum frame. It uses single-butted 6061 tubes, which is another way of saying it's not particularly light. It feels heavier and softer than some of the pricier aluminum bikes in this test – in particular the Canyon Grail AL and Marin Gestalt X10, both of which use higher-end, triple-butted tubesets. It's also hundreds of dollars cheaper than both of those.
Giant did include a few nice features found on its more expensive models, like a tapered 1 1/4" to 1 1/8" steerer, which keeps the front end feeling solid, and the D-Fuse shaped seat post, which adds a welcome bit of flex out back. The aluminum post doesn't give as much as a carbon post would but, again, that's what you get for $1,000.
More important to ride comfort is the Revolt's ability to take a 700×45 mm tire. That's in line with the best modern gravel bikes, and gives riders the option of running a fat, low-pressure tire to take the edge off bad surfaces.
We'll get into spec details below, but it's worth mentioning here that Giant's interesting hybrid mechanical/hydraulic brake system works pretty well, certainly better than an all-mechanical system.
Geometry
Giant takes few chances here. The geometry figures, when taken as a whole, point to a gravel bike that prioritizes stability, but not excessively so.
Steering geometry is the first indication of this goal. In an effort to prevent toe overlap, the three smallest sizes get a 70.5-degree head tube angle and 75 mm of trail and the three largest sizes get a steeper 71-degree head tube angle and 71.6 mm of trail. Both trail figures are on the longer side, but, again, not excessively so.
Wheelbase and chainstay length are likewise on the longer, more stable end of the spectrum. Chainstays are 430 mm across sizes, which seems to be the length that many companies are settling on these days. It provides plenty of tire clearance without altering of the seat tube/BB area, is short enough to keep the bike snappy, but long enough to inspire confidence when things get loose.
The riding position is about as upright as most endurance road bikes. Compare our medium test Revolt to a medium Trek Checkpoint, for example, and you end up with nearly identical reach figures, but 5 mm more stack.
Riders coming off an endurance road bike will feel at home quickly.
The ride
Giant opted for predictability and reliability over surprise and excitement, and you're reminded of this with every swooping corner or hard pedal stroke.
It's not that the Revolt's handling is bad. It's fine. The bike goes where you point it and accelerates when you ask it to. But everything feels a bit muted.
The geometry isn't unusual, so that's an unlikely culprit. Perhaps it's the single-butted frame that's to blame, but I think the most likely problem is simply weight. The math shows us that weight doesn't really affect speed all that much, but it unquestionably affects feel. Heavy, spinning rims are difficult to send in a different direction, and you feel that every time you flick the bike back and forth out of the saddle. It makes the bike feel slower, even when the actual difference is marginal.
The Revolt simply wasn't as playful as bikes like the Marin Gestalt and Canyon Grail.
The good news is that the Revolt is more comfortable than those bikes, which are far more expensive. The D-shaped seatpost really does work.
Spec
The Revolt 2 is built with a 2x Shimano Sora drivetrain, hybrid hydraulic/mechanical disc brakes, and Giant-branded bar/stem/seatpost components.
Sora, one of Shimano's cheapest drivetrain options, is surprisingly good. Or maybe that's not surprising; it's Shimano after all. The materials used are certainly heavier and of lower quality than more expensive groups, but the touch points – the actual feel of the group – isn't too far off 105 or even Ultegra. Rear shift actuation feels virtually identical to more expensive groups.
The Sora group only provides nine gears out back — two less than more expensive groupsets — but we all rode 2×9 drivetrains for a long time without issue. The 11×34 cassette provides plenty of range.
There's no clutch on the rear derailleur. This is a bummer if you're going to be taking the Revolt on rough trails, but it's not really necessary for most gravel riding.
Giant subbed in an affordable FSA Vero Pro crankset with 48/32-tooth chainrings. Shift quality doesn't suffer much, and the chainring sizes are spot on for a modern gravel bike. The FSA crankset saves a bit of cash and doesn't do any real harm. Those cranks are attached to a square taper bottom bracket, which is a fun blast from the past. The Giant website says this is a MegaExo pressfit BB – it is not.
Now, the brakes. Good brakes are important, but good brakes are hydraulic, and hydraulic brakes are expensive. Giant's solution to this problem is clever.
Those Sora levers are mechanical – they pull a brake cable. But that cable doesn't go all the way to a brake caliper. It goes into a small box on the handlebars and pulls on a cable-actuated master cylinder, which then actuates a hydraulic brake caliper. Giant calls the system Conduct.
In other words, the Conduct brake system takes a mechanical lever and turns it into a hydraulic brake. It works better than any mechanical system we've used, but not as well as a fully hydraulic system. Given the price point this bike was trying to hit, it's a great bit of tech. Our biggest issue with the Marin Gestalt X10, which is $300 more expensive, was its mechanical discs and the huge amount of hand strength they required to work.
You are limited to Giant stems, which isn't great.
Another bright spot in the spec is Giant's SX-2 disc wheel set. This was the only budget bike in our Field Test to arrive already set up tubeless, and when we swapped to our control tires we were able to inflate them with a floor pump. They're not the lightest, but seem well built and are wide enough to give a fat gravel tire a nice shape.
Any gravel bike in this price range is likely to be used for all sorts of different types of riding, from gravel to commuting to bikepacking. So it needs the mounts to match. The Revolt is slightly lacking on this front – it does have hidden mounts for racks and fenders, but lacks a top tube mount or any extra mounts on the fork. Giant hits the bare minimum here.
Final thoughts
You can't blame Giant for deciding not to take any chances with a gravel bike at this price point, but that does make the Revolt 2 somewhat hard to love. It's the Toyota Camry of budget gravel bikes. Completely reliable, functional, and predictable, but without a single feature that would really make you want it.
Contrast that with something like the Marin Gestalt X10, the Reliant Robin of budget gravel bikes. The Gestalt is aimed at a very particular type of rider, and that rider will love it. The Revolt wants to be liked, not loved.
Still, what Giant has done here for just $1,000 is impressive. The Revolt is every bit as capable as gravel bikes two or three times more expensive, because Giant got the key spec decisions right. It can run tubeless tires, it has functional brakes. The success or failure of a bike at this price comes down almost entirely to the parts hanging off the frame, and on this front, Giant succeeded.
So, can you get a good gravel bike for $1,000? Yes. Yes you can.
www.GiantBicycles.comWant more gravel? Be sure to check out the rest of the content from the 2020 CyclingTips Gravel Bike Field Test. Also, be sure to subscribe to our YouTube channel so you don't miss any of the associated videos, either.